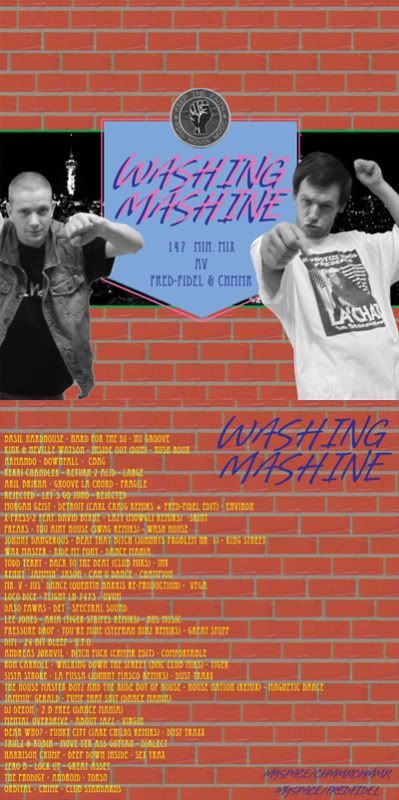 Our pals up in Trondheim have put in alot of work on this tape that they sent our way. Fred Fidel is resident at the monthly BangBang night at Trondheims finest Supa/Brukbar club. Chmmr is resident at the Skurk night at the same club.
Fred Fidel & Chmmr was not born in Chicago in 69'. And they wasnt there in the 80s with Ron Hardy and Frankie Knuckles. They were at home at their moms in the 90s and 00s, respectively in Hundvåg and in Hønefoss, listening to Orbital, Adamski, Warp stuff. This tape contains techno and house, mostly unblogged stuff that they have digged up at flea-markets or downloaded from Beatport.
Dive in:
FRED FIDEL & CHMMR - WASHING MASHINE MIX.ZIP
Full tracklist(even with labels):
Basil Hardhouse - Hard For The DJ - Nu Groove
Kink & Neville Watson - Inside Out (Dub) - Rush Rour
Armando - Downfall - Cbag
Kerri Chandler - Return 2 Acid - Large
Aril Brikha - Groove La Chord - Fragile
Rejected - Let`s Go Juno - Rejected
Morgan Geist - Detroit (Carl Craig Remiks + Fred-Fidel Edit) - Environ
X-Press-2 Feat. David Byrne - Lazy (Mowgli Remiks) -Skint
Freaks - You Aint House (Swag Remiks) - Wash House
Johnny Dangerous - Beat ThaT Bitch (Johnnys Problem Nr. 1) - King Street
Wax Master - Ride My Pony - Dance Mania
Todd Terry - Back To The Beat (Club Miks) - Ink
Kenny `Jammin` Jason - Can U Dance - Champion
Mr. V - Jus` Dance (Quentin Harris Re-Production) - Vega
Loco Dice - Flight LB 7475 - Ovum
Daso Pawas - Det - Spectral Sound
Lee Jones - Aria (Tiger Stripes Remiks) - Aus Music
Pressure Drop - You're Mine (Stephan Hinz Remiks) - Great Stuff
Difi - 24 Bit Bleep - U.F.O.
Andreas Jørnvil - Bitch Fuck (Chmmr Edit) - Comfortable
Ron Carroll - Walking Down The Street (BMC Club Miks) - Tiger
Sista Stroke - La Pussa (Johnny Fiasco Remiks) - Dust Traxx
The House Master Boyz And The Rude Boy Of House - House Nation (Remix) - Magnetic Dance
Jammin' Gerald - Pump That Shit (Dance Mania)
DJ Deeon - 2 B Free (Dance Mania)
Mental OVerdrive - About Jazz - Virgin
Bear Who? - Funky City (Jake Childs Remiks) - Dust Traxx
Trulz & Robin - Move Yer Ass Guttan - Dialect
Harrison Crump - Deep Down Inside - Sex trax
Zero B - Lock Up - Great Asset
The Prodigy - Android - Torso
Orbital - Chime - Club Standards